Spend 6 days immersed in Bali's lush nature at a private remote area 30 minutes north of Ubud with Inner Light Revival and Yaima. Bali is known around the world as the Island of the Gods and Heaven in Bali in Payangan, is surely Heaven. They are a boutique, mountain homestay located in the village of Kerta, which in the Balinese language means Peace, and what a fitting name for this location.
This experience is for anyone feeling called to:
Find true healing and transformation through the powerful technique of 'circular-connected breathing'.

Personally connect and immerse in the divine music of Yaima throughout the week, including a full live concert to close.

Connect deeply with self, others, and nature in this secluded Balinese paradise.

Tap into your true creative expression through movement, dance, singing, music, hiking, meditation etc - find what moves you!

Experience a trek of a lifetime through the hidden village in North Bali, a true gem surrounded by authentic rural Bali. We will explore 7 different waterfalls, rice fields, remote mountain villages, and more. Sekumpul Waterfalls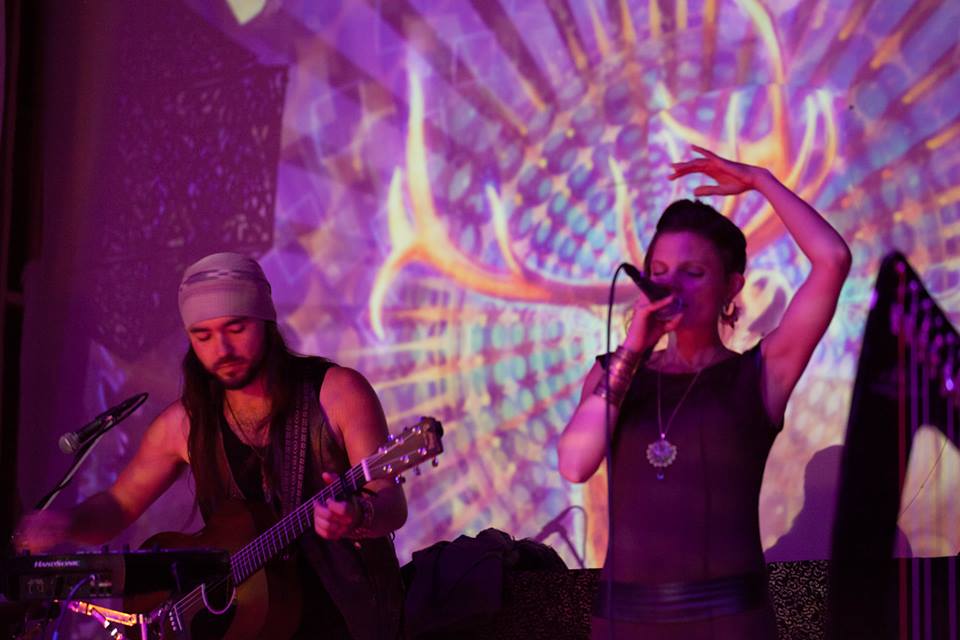 YAIMA is a Cascadian Elemental & Alchemical Electronic Music Duo based in Seattle WA.
Creating a deeply captivating and finely tuned container for their audiences- YAIMA (Mas Higasa and Pepper Proud) allow the listener the opportunity to Journey through Sonic Soundscapes traversing sensually stimulating and heart centered compositions deeply inspiring each listener to return to their truth. Their music is reminiscent of well known music groups such as Purity Ring, Massive Attack, Bjork, Portishead, Wildlight, Emancipator and Lulacruza.
The name YAIMA emerges from two sources one from the Mapudungun language meaning "that which water runs through" and the other from the gorgeous Island District of Okinawa Japan- Over the last 4 years YAIMAs music has been touching people all over the earth, from the US, Canada, UK, France, Spain, Germany, Poland, Italy, Hungary, Australia, New Zeland, Israel, Malaysia, South & Central America, Guatemala, South East Asia and Russia.
1 ticket left at Tier 1: $1400 all-inclusive (minus airfare)
4 tickets available at Tier 2: $1600
8 tickets available at Tier 3: $1800
Email Lindsay at innerlightrevival@gmail.com for more info
Heaven in Bali is a boutique homestay, where we have lived and hosted guests from all over the world, for the past 10 years. Overlooking the Ayung River ravine, Heaven in Bali boasts a stunning view of the valley and majestic neighbouring mountains. We have created a totally casual and relaxed atmosphere at Heaven in Bali, where you can unwind and rejuvenate, while immersing yourself in nature's offerings: lush vegetation, frogs, butterflies, the resident brilliant blue Kingfisher, whispering bamboo, spectacular mountains bathed in the mornings golden light and the mist filled valley. Occasionally you will see monkeys in the jungle canopy and squirrels playing tag amongst the branches.
At 824 metres (2400ft) above sea level, we enjoy a temperate climate, ideal for swimming by day and sleeping without air-conditioning at night, just the sounds of nature to lull you to sleep.
Itinerary
Wednesday 4/3
12 Noon Arrival (can arrange earlier)
3pm meet and greet with apps
5pm Dinner
7pm Opening bonfire ceremony with cacao music and dance
Thursday 4/4
8am Yin Yoga with Gurmukh Klema
930am Breakfast
11am Creative Expression Workshop with Pepper from Yaima
2pm Lunch
4pm Breathwork journey w/ Yaima Music
7pm Dinner
8pm Intro to Contact Improv/Ecstatic Dance w/ Trevor & Amalya
Friday 4/5
Full day waterfall trek to Sekumpul waterfalls (Aahhmazing)
Yoga Nidra
Saturday 4/6
8am Yin Yoga with Gurmukh Klema
930am Breakfast
11am Underwater Breathwork Journey
2pm Lunch
4pm Creative Expression Workshop w/ Mas from Yaima
7pm Dinner
8pm Ecstatic dance W/Yaima Music
Sunday 4/7
8am Rise and Shine Kundalini Yoga w/ Gurmukh Klema
930am Breakfast
11am Breathwork Journey
2pm Lunch
Play time
7pm Dinner
830pm Yaima Concert
Monday 4/8
8am Yin Yoga w/ Gurmukh Klema
930am Breakfast
11am Closing Gratitude Ceremony w/ Integration
2pm-630pm Lunch and hang out until departures